Posted on November 9, 2013 | Updated on March 3, 2014 5:56
Australian Geoscientist Unemployment at GFC Levels
Geoscientist underemployment and unemployment in Australia has slumped to a level matching that experienced at the peak of the global economic downturn in 2009 according to the latest Australian Institute of Geoscientists employment survey.
The downturn in Australia's exploration and mining industry continued during the third quarter (July-September) of 2013 with the combined under- and unemployment rate reaching 30.4%.  Some 13.5% of professional geoscientists in Australia are currently unemployed.  An additional 16.9% are unable to achieve their desired level of employment by being asked to work reduced hours or self-employed being unable to secure their desired level of engagement by clients.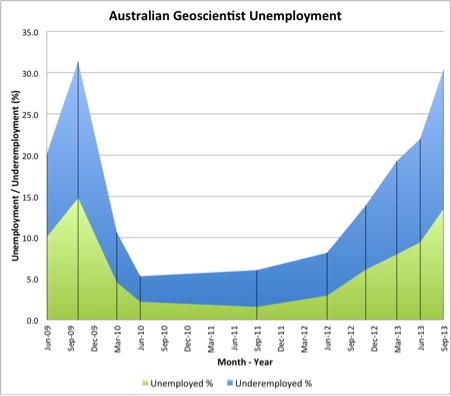 The peak combined under- and unemployment rate recorded during the global financial crisis of 2008-2009 by the ongoing AIG survey series was 31.3%, recorded at the end of September 2009.  The latest survey shows that the under- and unemployment rate amongst Australian geoscientists increased from 21.2% to 30.4% in the three months since the end of June.  During this period the unemployment rate increased from 9.4% to 13.5% and the underemployment rate from 12.6% to 16.9%.
The latest snapshot in an ongoing series of surveys monitoring employment conditions for Australia's professional geoscientists was taken at the end of September this year. Approximately one in ten of Australian geoscientists completed the survey questionnaire.
Most states recorded an increase in both under- and unemployment. Queensland geoscientists fared worst, with the unemployment rate more than doubling from 7.6% to 16.2% in the three months between June and September this year.
State
Unemployment (%)
Underemployment (%)
Jun 2013
Sep 2013
% Change
Jun 2013
Sep 2013
% Change
WA
9.1
15.2
67
10.1
14.1
40
QLD
7.6
16.2
114
12.4
18.9
53
NSW & ACT
9.3
7.7
(18)
12.2
19.1
58
VIC
10.0
5.0
50
10.0
25.0
150
SA
7.4
12.5
69
13.0
16.7
An increase in unemployment of 6.1%, from 9.1% to 15.2% was observed in Western Australia, and a similar increase from 7.4% to 12.5% was observed in South Australia.  Unemployment fell in New South Wales and Victoria, but the falls were offset by steep increases in the underemployment rate.  State figures are not presented for Tasmania and the Northern Territory due to the small number of respondents completing the survey.
Amongst geoscientists responding to the survey as being unemployed or underemployed, more than 10% have been so for more than 12 months.  Almost 62% became under- or unemployed during the past six months.  Almost 11% of under- and unemployed geoscientists are seeking to leave the profession while 47% expressed no confidence in being able to return to employment in the next 12 months.
"One of the most disconcerting features of the latest survey results is that the decline in geoscientist employment in Australia is continuing to accelerate" said AIG President, Kaylene Camuti.  "The lack of confidence amongst under- and unemployed geoscientists in being able to regain employment in their profession is also very disheartening".  "The loss of skills this creates in Australia will have long term consequences for our country that relies on its resource industries and needs geoscientific skills in a wide range of other fields including agriculture, infrastructure development and environmental management and remediation".
AIG is continuing to increase its efforts to support members by bringing their situation to the attention of policy makers, who could make a difference, particularly by introducing economically sustainable measures to reduce cyclicity evident in exploration investment amongst other measures, and providing its members with opportunities to help maintain or further develop their skills, to help ensure they can access future employment prospects as the jobs market improves.  These measures include access to high quality seminars presented by both leading Australian and internationally recognised geoscientists, extensive self paced on-line training, and a rigorous professional registration scheme by which members can have their own continued professional development initiatives independently verified.
AIG commenced this survey series in August 2009 and has conducted comparable surveys at semi-regular intervals during that time (indicated by the lines on the graph above). Further surveys will be conducted throughout 2014.  All Australian geoscientists are encouraged to participate and, in doing so, help to ensure that results are as representative and reliable as possible.
9 November 2013