Posted March 5, 2019
Australian Geoscientist employment survey results for Q4 2018 released.
Call also made for greater political action to ensure more equitable and timely access to land for exploration
More women also forging geoscience careers
The latest quarterly Australian geoscientist unemployment survey for the final quarter of 2018, conducted during January 2019, revealed a slight increasein geoscientist unemployment, from 8.3% at the end of September, to 9.1% at the end of December 2018. Underemployment amongst self-employed geoscientists, however, rose significantly from 12.9% to 18.5% for the same period.
However, despite the dip for the past quarter, the new results pointed to evidence of an overall improving job trend since June 2016.
"This latest quarterly result is disappointing", Australian Institute of Geoscientists spokesperson, Mr Andrew Waltho said today, "coming at a time when there was genuine optimism regarding an improvement in exploration activity, several, significant new mineral discoveries, and speculation regarding potential skills shortages facing the exploration and mining sectors".  
"Both the Federal Government and Opposition have announced initiatives to support mineral exploration research if elected in the May Federal election, but no-one is talking about improving processes facilitating equitable and timely access to land for exploration," Mr Waltho said.
"In fairness, this is a state issue, but we are still seeing bureaucratic and lengthy processes in operation that disadvantage the junior exploration sector in particular, with little sign of change," Mr Waltho said.
The unemployment and underemployment situation varied widely between states.  Unemployment was lowest in South Australia (5.3%), NSW and ACT (5.6%) and Victoria (5.9%), followed by Western Australia (8.3%).  The results for Victoria and South Australia represent marked improvements on the previous, September quarter survey.  Unemployment in Western Australia was 8.3%, up from 6.5%. Unemployment in Queensland jumped from 11.5% in the September quarter to 15.1% in this survey.
All states except South Australia saw little change or an increase in unemployment in the 12 months between December 2017 and December 2018, but an overall improving trend since June 2016 remains evident.
The underemployment rate in South Australia took some gloss off the positive unemployment figure, coming in at 36.8% for the quarter, followed by Queensland (24.2%), NSW/ACT (16.9%), Western Australia (14.9%) and Victoria (11.8%).  
The survey attracted 391 individual responses. Too few responses were received from Tasmania and the Northern Territory for the reporting of state results.
Junior exploration and mining companies employ 29% of Australia's geoscientists according to this survey, almost as many as major and mid-tier companies combined.  
Cultural shift needed
"This amply demonstrates the importance of measures to help small employers avoid burning precious capital waiting for approvals before conducting productive exploration activities" Mr Waltho said.
"Small companies have a limited capital base on which is difficult to raise further funds and must be used productively if they are to survive," Mr Waltho said.
"Early career geoscientists tend to be employed in greater numbers by major mining and exploration companies but this soon changes as geoscientists gain professional experience, suggesting that major companies need to look more closely at retaining talent by providing a more dynamic and professionally rewarding professional environment for their staff," Mr Waltho said.
Women are represented almost equally in the geoscience staff of major, mid-tier and junior exploration companies.  The overall proportion of women in the workforce remains low, but large, mid-sized and junior companies don't appear to either discriminate or be preferred sources of employment.
"Gender diversity in exploration and mining, long-considered to be a male dominated profession in Australia is changing rapidly" Mr Waltho said. "Almost half of the early career geoscientists (0-5 years' experience) who responded to this latest survey were women," Mr Waltho said. "The sector is clearly creating career opportunities for women that are being taken up and we need to ensure that this trend continues through measures to promote and preserve gender diversity," he said.
 "A drop in the proportion of women in the 5 – 10 year experience range is evident, but the proportion of women in the profession increases again in the 10 – 15 year range, suggesting, perhaps, that we are seeing the benefit of measures such as flexible employment and favourable parental leave provisions that enable geoscientists to mix raising a family with pursuit of a career. "This again, is something we need to build," Mr Waltho said.  
"The fact that we are seeing evidence pointing to this is a real positive for both the exploration and mining industry and our profession," Mr Waltho said.
Posted September 6, 2018 | Updated on September 11, 2018 22:43
Part II.  Continued Professional Development is expensive.  Right?
Wrong.  Continued pprofessional development (CPD) covers a broad spectrum of activities that contribute to both your development of new skills and refinement of existing ones.  CPD always requires an investment of time but it does not need to be expensive or onerous in other ways.
CPD can be considered to be an investment, by you in your own career, and in your development as a professional by your employer.  It can be both formal and informal and requires tracking and documenting the skills, knowledge and experience that you gain as you work, beyond any initial training.  CPD records document what you experience, learn and then apply.
Some professions use the term 'continuing professional develment' formally, and require a certain amount of development activity to be carried out and documented each year as a condition of maintaining your membership of, or registration with, a professional body, or a licence to operate in that field.  
In other areas, CPD is used more informally. A commitment to learning and improving is, however, generally expected of anyone in a professional capacity.
There are no formal "licence to operate" provisions affecting geologists, generally, in Australia and New Zealand, although there are specific fields where government authorities require geoscientists to be members of a recognised professional association or institute.  Requirements vary from state to state in Australia.  The situation is very different in Canada, where professional registration is required to work in most provinces and legislation to mandate this is in place.  Professional registration is also required in some U.S. states and in the European Union.  AusIMM Members must have Chartered Professional status to act as Qualified Persons reporting exploration results, mineral resources and ore reserves to Canadian securities exchanges.  This is not, however, required of AusIMM Fellows, or both AIG Members and Fellows.  These arrangements are set in Canada and subject to regular review.  
What is a profession?
A profession may be considered to be any career area for which you need a professional qualification. Traditionally, the professions included law, medicine (including dentistry and other allied professions), and accountancy.  More recently, many other professions have emerged, including HR, marketing, sales and IT, all of which have recognised professional qualifications.
While CPD isn't a requirement for geoscientists in Australia, it does demonstrate commitment to continually improving your skills, in addition to maintaining concepts of best practice through sharing learning with colleagues and peers.
Recording your development actions is essential.  An important part of continuing professional development is being able to demonstrate it.  It is important to keep a diary of all your development activities to be able to show how your skills and knowledge have developed over a period.
An investment in CPD is typically measured in CPD hours or CPD points, both of which are a combination of the time devoted to continued professional development and an activity weighting or multiplier.  Multipliers reflect the effort and value associated with specific activities.
The AIG's Registered Professional Geosceintist (RPGeo) programme specifies the following weightings for various CPD activities.  Some examples of the weightings for different activities include:
| | |
| --- | --- |
| Activity | Weighting |
| Meeting, seminar and conference attendance, including webinars. | 1 |
| Formal postgraduate study, short course and workshop attendance (applied to lecture hours) | 2 |
| Distance learning – higher degree and postgraduate studies (applied to lecture hours) | 2 |
| "On the job" learning: e.g. mine visits (other than those associated with regular duties), working with consultants, undertaking company-sponsored research. | 1 |
| Preparation and presentation of materials for geoscience courses, conferences, seminars and symposia. | 2 |
| Participation in AIG and other professional society / institute committee work | 0.5 |
| Receiving mentoring (mentee) from experienced MAIG or FAIG | 1 |
| Providing mentoring to an early career or less experienced geoscientist | 0.5 |
Some activities are subject to additional restrictions, such as the proportion of total hours that may be provided by a single activity, to ensure that continued professional development completed by members has an element of diversity.  There are also specified hours for some activities, such as 30 hours for publication of a paper in a peer-reviewed journal.  A more detailed discussion of what constitutes CPD and relevant weightings is available here.
It's not all about attending conferences and seminars.  It is clear from the list above that there are a wide range of activities that contribute to professional development, readily accessible by all members.  RPGeos are required to complete an average of 50 CPD hours per year, averaged over three years, which may sound onerous but is something that many members achieve without realising it, or doing anything out of the ordinary.    
The key is ensuring that CPD activities are recorded.
What do you think?  Is a requirement for all Graduates, Members and Fellows to undertake CPD, and in the process satisfying community expectations of what constitutes a professional, something that AIG should consider?  Add your thoughts to this post or join the discussion on the AIG Linkedin Group.
Part I of this article series is available here.

Posted July 8, 2018
Graduation from university with an Earth science degree represented a major learning milestone that enabled you to begin your geoscience career.  It also represented the start of the next phase in your professional, technical and personal development through continuing development as a professional.
Continuing professional development, or CPD, is work-related learning that should continue throughout your career.  The year in which new professionals enter the workforce is usually a period of intense, on the job learning in a diverse range of areas such as field and mapping skills, sampling, core logging, managing contractors, landowner liaison and mining title management, to name but a few.  University studies provide an essential and solid grounding in geological principles, Earth systems, scientific method and research skills, which must be supplemented by a broad spectrum of new skills that are based on elements of these fields and represent workplace essentials.
In many professions, CPD forms an integral part of a licence to practice.  More professions require a managed and verifiable commitment to CPD than not.  The dominant reason for this this is the perception of public risk associated with practice of the profession in question.  Medical professionals, for example, may be called on to make decisions that could affect someone's life.  Engineers design and build structures and machines that could create public safety risks or have profound economic consequence if they fail.  Teachers shape the character and skills of young people who will be the backbone of our society in future years.
Geoscientists have the privilege of being self-regulating.  There is no universal requirement for professional registration and licencing of geoscientists in Australia.  This does not, however, diminish the need for, and value of CPD.  It remains one of the key mechanisms by which high standards of professional practice and the relevance and currency of qualifications and experience are maintained.
CPD is frequently described as an investment for both individuals and employers as it involves maintaining enhancing and extending your knowledge expertise and competence.  It is central to the definition of professionalism recognised by the general public, where professionals strive to become leaders, knowledgeable, sources of advice and able to reliably solve problems in their chosen fields, which sets them apart from the rest of the pack.
Formal CPD falls into three broad categories:
formal CPD;
informal work-related CPD; and
activities external to your work that contribute to your CPD.
CPD requires an investment of time, but the cost of CPD does not need to be onerous due to the range of activities that fall into the three categories above.
Join a discussion of CPD and professionalism on the AIG Linkedin Group.
Posted June 21, 2018
Perth-based geology consulting and contracting company Digirock helps university students find exploration and mining industry vacation employment opportunities.  The register re-opens for 2018 on 2 July.  Applications close Monday, Sept 3, 2018.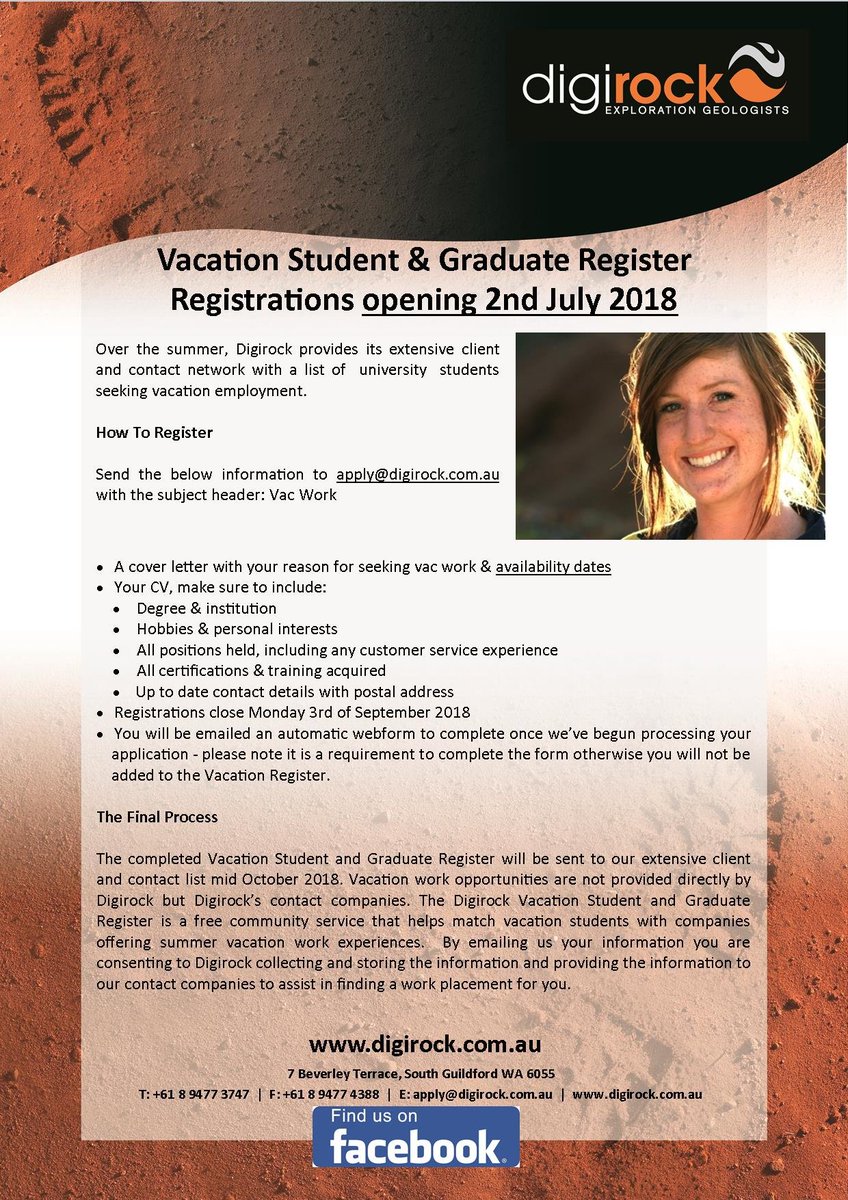 AIG commends Digirock for continuing this great initiative.
Posted May 4, 2018
Embedded PhD researcher
The Economic Geology Research Centre (EGRU) at James Cook University (JCU), Townsville and Dugald River Mine, MMG, are offering a PhD project in Structural Geology/engineering geology/geotechnical engineering, focused on developing a model for the geotechnical behavior of the ore zone and immediate wall rock at Dugald River Mine, north of Cloncurry, Australia.
Dugald River, is a world-class Zn-Pb-Ag deposit (64.8Mt @ 12.0% Zn, 2.2% Pb, 31g/t Ag) in the Mt Isa district which commenced mining in 2013. The ore zone is structurally complex with a strongly sheared and faulted hanging wall, which affects mining and ore recovery.
During the project you will develop a structural model for the orebody based on face mapping and drill core logging using advanced digital mapping techniques (ADAM Tech) in combination with 3-D modelling (Leapfrog and Vulcan). The work is aimed at gaining an improved understanding of fault distribution patterns and rock mass behaviour along the ore zone, to improve the efficiency of ore recovery.
The successful applicants will have good 3-D skills with experience in structural geology, engineering geology and/or geotechnical engineering. Prior knowledge of Leapfrog, Vulcan and ADAM Tech software would be an advantage but is not a necessity. We are looking for candidates with an interest in solving practical geotechnical problems in a mining environment. A first class Honours or a Master by research are essential to be eligible for PhD studies at JCU, and be competitive for a scholarship.
More information about the Geoscience department and EGRU can be found here (JCU web site)
If you are interested please send an expression of interest and your CV to: